For the past decade, solar has seen over 33 percent growth per year. Falling costs have seen more than 121 gigawatts of solar capacity installed in the U.S alone. That is enough to power more than 23 million homes.
Investment in solar is most likely to keep growing for the foreseeable future as the market matures. It is a promising field to get into and one of the simplest ways to do that is by installing solar panels.
The average salary for solar installers is between $38,000 to $62,000 with top earners taking home close to $70,000. How much you can make is largely influenced by your skill level, experience, and location. But what does it take to become a solar installer?
Do You Need To Be MCS Accredited?
MCS accreditation is not a regulatory requirement. It is not a license and a solar contractor can still carry out installations without the accreditation. Its primary purpose is as a quality assurance scheme.
---
On a side note! If you're in need of a reliable and high-performance portable solar panel, We strongly recommend the Jackery SolarSaga 100W  Portable Solar Panel  (Amazon Link).
With a high conversion efficiency and foldable design, this solar panel is easy to transport and set up, making it perfect for outdoor activities like camping, hiking, and RV trips.
The US solar cell technology used in this panel ensures that you get the most efficient and reliable solar charging possible.
There is also a 60W option that is more affordable (Amazon Link)
---
In short, you do not need to be MCS accredited to be a solar contractor. It is an accreditation that is nice to have but you do not need to have it. With that being said, accreditations are effective marketing tools when selling a service or product. It may be worth getting if only to market your credentials as a solar installer.
How do you become MCS certified?
To become MCS certified you need to be assessed by the MCS certification board. There are several requirements you need to meet which relate to your design and installation procedures. Once you have been evaluated and you meet the requirements you will be given accreditation. Source
In this article, we outline the requirements for becoming a solar installer. We will look at some of the certifications that are used in the solar industry and how to get them. We will also cover the licensing requirements.
If you're looking to get into solar as an installer and you are not sure where to start, then this article will give you a guideline on how to get into a job market that has grown 167 percent in the last decade.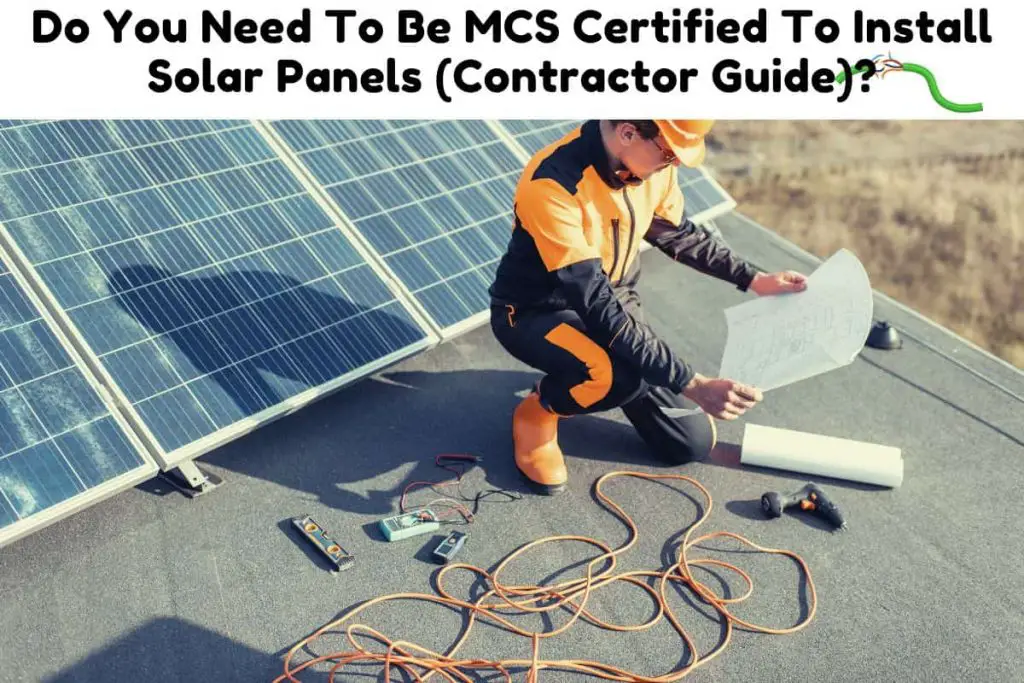 What Is An MCS Certificate?
A Microgeneration Certification Scheme or MCS certificate is a quality assurance scheme. It is a guarantee that the installation of a microgeneration system such as a solar panel or solar water heating system meets a certain standard.
An MCS certificate is given to a property owner by an MCS-certified contractor upon the installation of a microgeneration system. An MCS certificate is not a mandatory or legal requirement. It serves to prove that the system was installed by an accredited professional using approved equipment.
What Is Needed For MCS?
A solar panel installation has to meet the following three requirements before an MCS certificate can be issued.
It has to be carried out by an MCS-certified contractor.
It has to be carried out using MCS-certified products.
The system has to have been installed after 15th July 2009.
After these requirements are met, an MCS certificate is issued by the installer upon request within 10 days.
How To Become A Licensed Solar Contractor
The most common way to become a solar installer is first learning solar system design and installation at a technical college before receiving on-the-job training. The training serves as an apprenticeship where practical experience in solar installation is gained.
What does a solar installer do?
To understand how to become a solar installer you need to know exactly what a solar installer's job involves. Firstly, a solar installer does not typically sell solar systems although there are installers that both supply and install.
Installers mostly handle the design, installation, and maintenance of a solar panel system. A typical installation will follow this outline:
Consultation and design
A contractor will assess the client's energy needs and advise on the design of a system. This will involve working out what type of system they will need and how many solar panels or batteries are required for that system.
Installation
After the system is designed, it will then be fitted. This involves setting the solar panels up with the rest of the components which will include inverters, cables, and other pieces depending on what type of system is used.
In some cases, the installer, if they are suitably qualified will connect the system to the client's grid supply. Very often, this is done by an electrician and not the installer.
That in brief is what a solar installer does. But how do you become one?
Learning the theory
The first step would be to learn the theory and design of a solar setup. This can be done at a technical college or from an established solar company that offers in-house training.
Electricians and roofers will find it much quicker to become solar installers. There are multiple resources that can help anyone looking to learn solar both online and in person. The US Department of Energy is a good place to start. They have a blog full of resources you can view here. Source
On-the-job training
This is the most important aspect of becoming a solar installer. You need to have in-the-field training. The best way to do this would be to apprentice under an experienced solar installer or get an apprenticeship at one of the major solar companies.
One place to find information about what apprenticeships related to solar are available is the Solar Energy Industries Association blog. Source
Now you know how to become a solar installer. But are there any licenses you need to get before you become a qualified installer?
Generally, licensing for solar installers is not mandatory. Some states do require that installers be licensed. While certification is not mandatory, it can, however, help you stand out and be more marketable. You can find out about the specific licensing requirement that applies to your state here. Source
There are several certifications you can get. One is the North American Board of Certified Energy Practitioners (NABCEP). Another popular certification is the MCS certificate.